Benefits
60A AC charger per module, up to 540A super large AC charger per system
Adjustable charging current (can support all battery sizes).
User-adjustable charging current and voltage.
Rack-mount design.
Pure sine wave output.
Solar charger MPPT 80A (Optional).
Monitoring software for real-time status display and control.
Parallel operation up to 9 units.
Comprehensive LCD display for easy configuration and monitoring.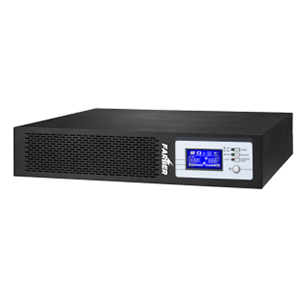 Specification
MODEL NUMBER
FA-INV-48V-5000VA
RATED POWER
5000VA/5000W
INPUT
Voltage
220/230/240 VAC
Voltage Range
170-255 VAC
Frequency Range
50 Hz/60 Hz (Auto sensing)
OUTPUT
AC Voltage Regulation (Batt. Mode)
220/230/240VAC ± 5%
Surge Power for 5 seconds
10000VA
Efficiency (Peak)
93%
Transfer Time
< 10 ms
Waveform (Batt. Mode)
Pure sine wave
BATTERY
Battery Voltage
48 VDC
CC/CV Charge Voltage
56.4 VDC
Floating Charge Voltage
53.6 VDC
Overcharge Protection
60 VDC
AC CHARGER
Maximum AC Charge Current (Adjustable)
2.5~60 A
Charging modes
3 steps for CC, CF and Floating
SOLAR CHARGER (OPTION)
Maximum PV Array Power
4000W
MPPT Range @ Operating Voltage
60 VDC ~ 115 VDC
Maximum PV Array Open Circuit Voltage
145 VDC
Maximum Solar Charge Current
80 A
Maximum Parallel units
Up to 9 units
Parallel Type
Single Phase or Three Phase Transfer Time
Transfer Time in Parallel Mode
<40ms
PHYSICAL
Dimension, D x W x H (mm)
400 x 438 x 88 (2U)
Net Weight (kgs)
9.1
Humidity
5% to 95% Relative Humidity (Non-condensing)
Operating Temperature
0°C to 40°C
Storage Temperature
-15°C to 60°C