BENEFITS
Sealed maintenance free VRLA technology.

AGM separator.

Modular design with low foot print.

Robust design with lip and tongue heat
sealing for container integrity.

C/20 battery rate. ( C/10 & C/5 optional)

MAINTENANCE & CAUTIONS

Float Service

Every month, recommend inspection every
battery voltage.

Every three months, recommend equalization
charge for one time.

Equalization charge method:

Discharge: 100% rate capacity discharge.

Charge: Max. current 0.3CA, constant voltage
14.4-14.7V charge 24h.

Effect of temperature on float charge voltage:
-3mV/Cell.

Length of service life will be directly affected
by the number of discharge

Cycles, depth of discharge, ambient
temperature and charging voltage.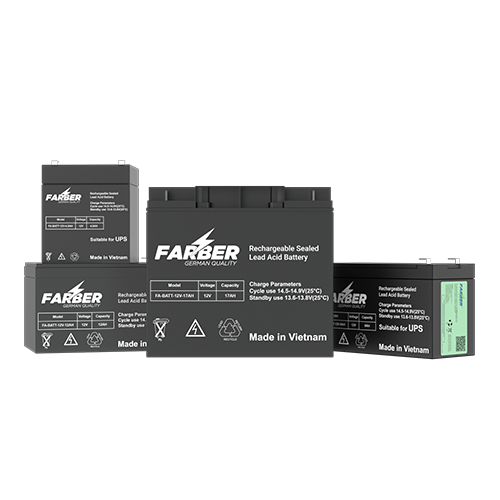 Specification
MODEL
VOLTAGE
(V)
CAPACITY
(AH)
WEIGHT
(KG)
DIMENSION IN MM
(L × W × H)
FA-BATT-12V-4.5AH
12
4.5
1.5
90*70*101 (107)
FA-BATT-12V-7AH
12
7
2
151*65*93.5 (100)
FA-BATT-12V-9AH
12
9
2.5
151*65*93.5 (100)
FA-BATT-12V-12AH
12
12
3.4
151*98*95 (101)
FA-BATT-12V-17AH
12
17
5.2
181*770*167 (167)