Benefits
True online double-conversion technology with high power density, utility frequency independence.
DSP technology to guarantee high reliability.
High scalability
Cold start function to startup the UPS without utility.
Emergency power off (EPO) function.
N+X parallel redundancy.
Less than 2% harmonics distortion in the output.
Three segment charging mode to increase battery service life, optimize recharge time
High overload capability
Maintenance bypass available.
Less than 55dB @ 1m noise level.
Optional touch colored LCD screen.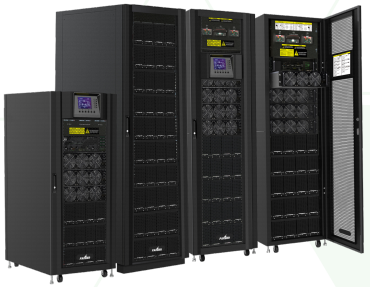 Specification
MODEL
FA-UPSX-240V-30KVA-1PH
FA-UPSX-240V-50KVA-1PH
PHASE
1-phase in/1-phase out
Cabinet Capacity
30KW
50KW
BATTERY TYPE
Built-in Battery or External Battery
ONE POWER MODULE CAPACITY
6KVA / 6KW or 10KVA / 10KW
MAX. POWER MODULE NO.
5
INPUT
Nominal Voltage
220/230Vac
Voltage Range
120~276Vac
Nominal Frequency
50/60Hz (Auto Sensing)
Frequency Range
40Hz ~70Hz
Power Factor
> 0.99 @ 100% Load , >0.98 @ 50% Load
Harmonic Distortion (THDi)
< 3% @ 100% load
OUTPUT
Nominal Voltage
220/230Vac
Voltage Regulation (Steady state)
< ± 1% Typical (balanced load) ; <± 2% Typical (unbalanced load)
Nominal Frequency
50/60Hz
Frequency Range (Synchronized)
46Hz ~ 54Hz or 56Hz ~ 64Hz
Overload Capability
1 hour for 110%, 10 mins for 125%,; 1 min for 150%, 200ms for >150%
Harmonic Distortion
<2% THD (Linear Load) ; <4% THD (Non-linear Load)
Efficiency
Up to 94.5%
BATTERY / CHARGER
Numbers
16~20 pcs (Adjustable)
Charging Voltage
+/- 13.7V x N (N=16~20)
Temperature Compensation
Yes
Maximum Charging Current Per Module)
6A
PHYSICAL
Cabinet Dimension (D x W x H) mm
840×600×1400
840×600×2000
Net Weight (Kg)
138
150
ENVIRONMENT
Operating Temperature
0 ~ 40°C
Relative Humidity
0 ~ 95% non-condensing
MANAGEMENT
Optional SNMP
Power management from SNMP manager and web browser