Benefits
True online double conversion DSP control.
Unique design and fully coating PCBAs to withstand harsh environment
Unique ventilation design for effective heat dissipation.
Active power factor correction in all phases.
Emergency power off (EPO) function.
N+X parallel redundancy.
Front access makes maintenance and replacement easily.
High short-circuit and overload capabilities.
Easy integration into existing electrical networks or generator.
Smart battery charger design to optimize battery performance.
Optional touch colored LCD.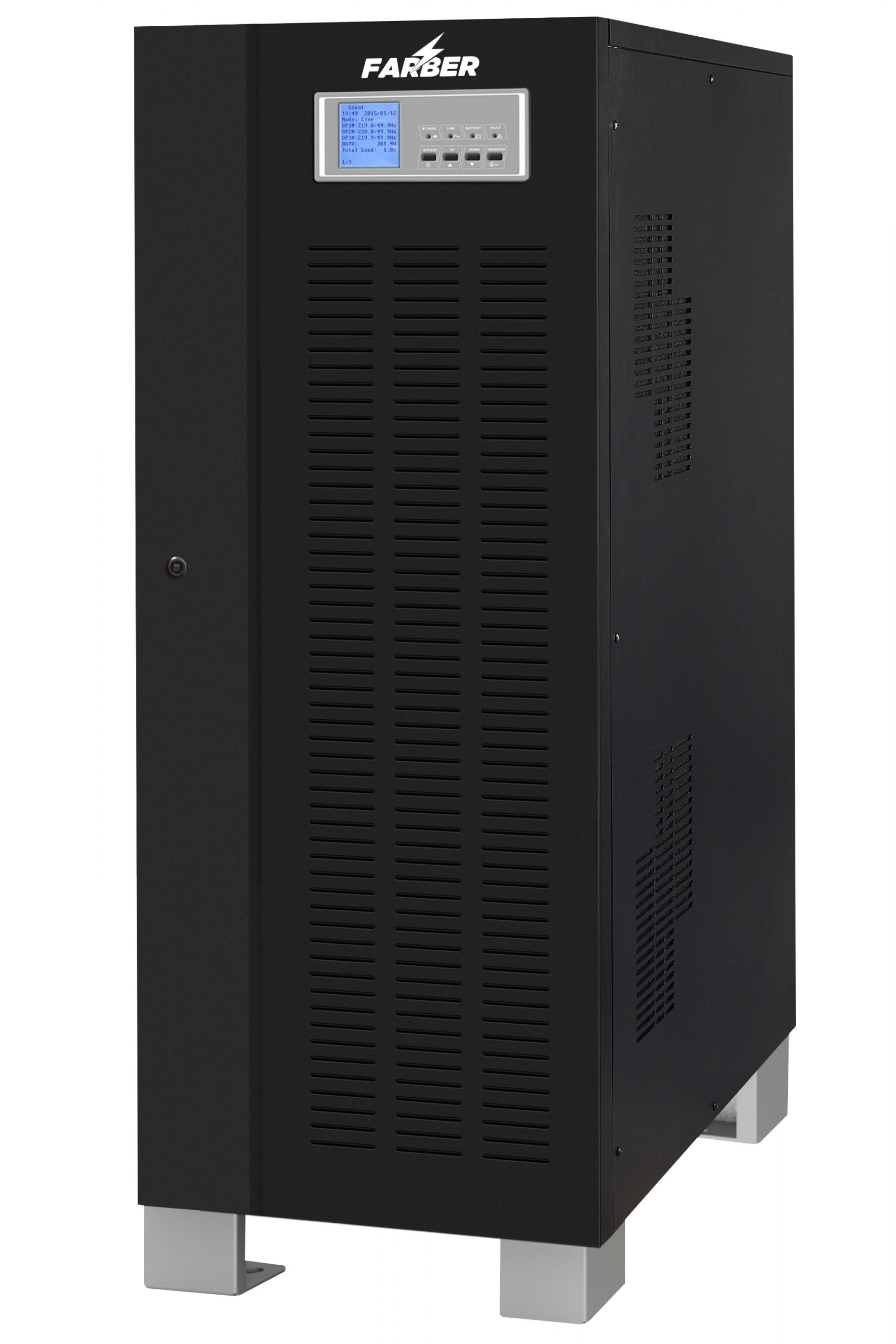 Specification
MODEL
FA-UPSW-216V-6KVA-1PH
FA-UPSW-216V-7.5KVA-1PH
FA-UPSW-216V-10KVA-1PH
PHASE
Single phase with ground
Capacity(VA/Watts)
6KVA /4.8KW
7.5KVA /6KW
10KVA /8 KW
INPUT
Nominal Voltage
208VAC/220VAC/230VAC
Voltage Range
165VAC ~285VAC @ 16 pcs batteries ; 185VAC ~285VAC @ 18 pcs batteries
Frequency
40 Hz~55Hz @ 50 Hz system ; 56 Hz~64 Hz @ 60 Hz system
OUTPUT
Nominal Voltage
208VAC/220VAC/230VAC
Frequency Range (Synchronized Range)
45Hz~55Hz or 56Hz~64Hz
Frequency Range (Batt. Mode)
50 Hz ± 0.1 Hz or 60 Hz ± 0.1 Hz
Current Crest Ratio
3:01
Harmonic Distortion
< 3 % THD (Linear Load) ; < 5% THD (Non-linear Load)
Frequency
50 Hz
Transfer Time
0 ms
Waveform (Batt. Mode)
Pure Sinewave
EFFICIENCY
AC Mode
88.30%
Battery Mode
92%
BATTERY
Standard Model
Battery Type
12V / 7Ah or 12V / 9Ah
Battery Numbers**
16 Pcs
Charging Current
2A
Charging Voltage
218.4 V ± 1%
Long-run Model
attery Numbers**
16 ~ 18 pcs
Charging Current(max.)
Default 8A, 2A/4A/8A (adjustable)
Charging Voltage
218.4 V±1% ~ 245.7 V±1%
ALARM
Battery Mode
Sounding every 4 seconds
Low Battery
Sounding every second
Overload
Sounding twice every second
Fault
Continuously sounding
PHYPHYSICAL
SICAL
Standard Mode
Dimension, DxWxH(mm)
562 x 300 x 830
Net Weight (kgs)
106               122          130
Long-run Model
Dimension, DxWxH(mm)
562 x 250 x 830
Long-run Model
Net Weight (kgs)
62                 78            86
ENVIRONMENT
Operation Temperature
0~50ºC (battery life cycle will shorten when temperature is above 25ºC)
Humidity
0~95% (non-condensing)