Benefits
The transformer won't be damaged, if short circuit happened or it's overloaded in short time. 100% load for long time, 150% for 30 seconds, 200% for 10 seconds, 300% for 5 seconds
When output voltage is out of range, or overload, overheat and
open phase happens, or control circuit is abnormal, it will give buzzer beeping and LED is light (not cut off output).
The contactless inductive transformer makes the linear voltage regulation.
Manual bypass switch is bundle.
No contact point inside the transformer, there is no arc discharge.
The winding is made of high purity oxygen-free copper wire, the core is made of high magnetic density silicon-steel plate.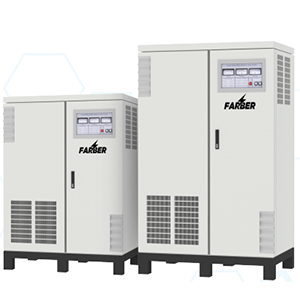 Specification
MODEL NUMBER
FA-AVR-150V-
200KVA-33CVR
FA-AVR-150V-
500KVA-33CVR
FA-AVR-150V-
800KVA-33CVR
FA-AVR-150V-
1500KVA-33CVR
FA-AVR-150V-
3000KVA-33CVR
Available capacity: 200KVA, 250KVA, 300KVA, 400KVA, 500KVA, 600KVA, 800KVA, 1000KVA, 1200KVA, 1500KVA, 2000KVA, 2500KVA & 3000KVA
Modeling number: FA-AVR-150V-XXKVA-33CVR, Where XX=AVR capacity
Capacity
200KVA/160KW
500KVA/400KW
800KVA/640KW
1500KVA/1200KW
3000KVA/2400KW
INPUT
Rated INPUT Voltage
380V (400V, 415V, 440V or 200V, 220V Optional)
Input Voltage Range
±15%, ±30%, or customized
Input Frequency
50/60Hz ± 5Hz
Power Factor
0.98
OUTPUT
Rated Output Voltage
L1—L2/380V L2—L3/380V L1—L3/380V
Output Precision
Preset at ±2% (±2% to ±10% Adjustable)
Response time
<1s, against 10% variation of input voltage
Power Factor
0.8
Efficiency
>96%
Loading Ability
150% for 30s, 200% for 10s, 300% for 1s
DISPLAY
Input Voltage
Analog or Digital Voltmeter
Output Voltage
Analog or Digital Voltmeter
Output Current
Analog or Digital Current meter
PROTECTION AND ALARM
Output Over / Under Voltage
LED + Buzzer Beeping (Output Cut-off Optional)
Overload
200kVA~600kVA: Input Cut-off +LED +Buzzer Beeping Short Circuit 800kVA~3,000kVA: LED +Buzzer Beeping
Over Temperature
LED + Buzzer Beeping (Output Cut-off Optional)
Short Circuit
Input cutoff by air breaker
WRONG PHASE sequence
Cant switch on regulator "P" in display + Buzzer beeping
Phase failure
LED + Buzzer Beeping
Bypass
Isolated manual bypass switch
Output Delay time
6s/180s selectable
Surge/Spike
Optional, Replaceable SPD
SAFETY
Insulation V / R
2,000V/60s / >5MΩ
Creepage Distance
>8mm
Grounding Resistance
>0.1MΩ
Cooling Mode
Force Air Cooling
Audible Noise
<65dB at 1m distance with full load
SAFETY
operating Temperture
– 5°C – + 45°C
Operating humidity
0%-90%, non-condensing