Benefits
Programmable multiple operation modes: Grid-tie (withbattery connected), off-grid and grid-tie with backup.
Parallel operation up to 6 units for 5KW and 10KW.
Self-consumption and feed-in to the grid.
Pure sine wave output.
Monitoring software for real-time status display and control.
Programmable supply priority for PV, Battery or Grid.
User-adjustable charging current and voltage.
Multiple communication for USB, RS-232, Modbus and SNMP
Built-in timer for various mode of on/off operation.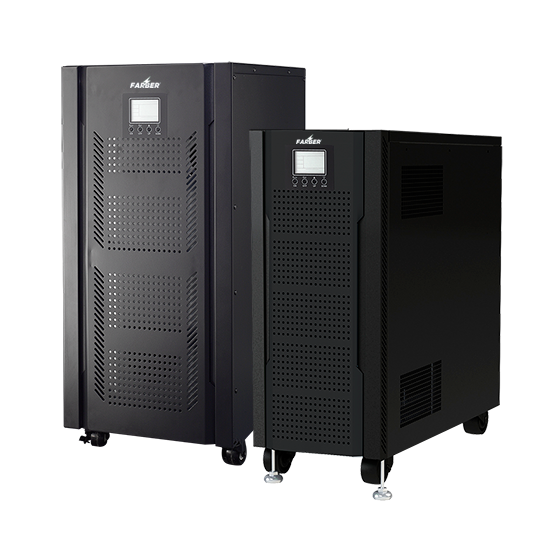 Specification
MODEL NUMBER
FA-HINV-192V-6KVA
FA-HINV-192V-10KVA
FA-HINV-384V-20KVA
FA-HINV-384V-30KVA
PHASE
3-phase in /3-phase out
Max. PV Array Power
9KW
15KW
30KW
45KW
Rated Output Power
6KW
10KW
20KW
30KW
Maximum Charging Power
6KW
10KW
20KW
30KW
Nominal DC Voltage/Max. DC Voltage
500 VDC / 750 VDC
500 VDC / 750 VDC
720 VDC / 950 VDC
720 VDC / 950 VDC
Start-up Voltage/Initial Feeding Voltage
220 VDC / 250 VDC
220 VDC / 250 VDC
500 VDC / 550 VDC
500 VDC / 550 VDC
MPP Voltage Range
250 VDC – 700 VDC
250 VDC – 700 VDC
550 VDC – 900 VDC
460 VDC – 900 VDC
Number of MPP Trackers/Maximum Input
Current
1 / 20 A
1 / 33 A
1 / 48 A
1 / 72 A
Full Power MPP Voltage Range
450 VDC – 700 VDC
451 VDC – 700 VDC
626 VDC – 900 VDC
627 VDC – 900 VDC
Nominal Output Voltage
230 VAC (P-N) / 400 VAC (P-P)
Output Voltage Range
184 – 265 VAC per phase
185 – 265 VAC per phase
186 – 265 VAC per phase
195.5 – 253 VAC per phase
Output Frequency Range
47.5 – 51.5 Hz or 59.3 – 60.5 Hz
47.5 – 51.5 Hz or 59.3 – 60.5 Hz
47.5 – 51.5 Hz or 59.3 – 60.5 Hz
51 – 51 Hz or 59.3 – 60.5 Hz
Nominal Output Current
8.7 A per phase
14.3 A per phase
24.5 A per phase
43.5 A per phase
Power Factor
> 0.99
> 0.99
> 0.99
1
Maximum Conversion Efficiency (DC/AC)
0.91
0.91
0.91
0.95
AC start-up Voltage/Auto Restart Voltage
120 – 140 VAC per phase / 180 VAC per phase
120 – 140 VAC per phase / 180 VAC per phase
120 – 140 VAC per phase / 180 VAC per phase
150 – 170 VAC per phase /
180 VAC per phase
Acceptable Input Voltage Range
170 – 280 VAC per phase
Max. AC Input Current
20A per phase
30A per phase
40A per phase
43.5 A per phase
Max. DC Voltage
750 VDC
750 VDC
950 VDC
950 VDC
MPP Voltage Range
250 VDC – 700 VDC
250 VDC – 700 VDC
550 VDC – 900 VDC
460 VDC – 900 VDC
Number of MPP Trackers/Max. Input
Current
1 / 20 Amp
1 / 33 Amp
1 / 48 Amp
1 / 72 A
BATTERY MODE OUTPUT (AC)
Nominal Output Voltage
230 VAC (P-N) / 400 VAC (P-P)
Output Waveform
Pure sine wave
Efficiency (DC to AC)
91%
HYBRID OPERATION
Nominal DC Voltage/Max. DC Voltage
500 VDC / 750 VDC
500 VDC / 750 VDC
720 VDC / 950 VDC
720 VDC / 950 VDC
Start-up Voltage/Initial Feeding Voltage
220 VDC / 250 VDC
220 VDC / 250 VDC
500 VDC / 550 VDC
500 VDC / 550 VDC
MPP Voltage Range
250 VDC – 700 VDC
250 VDC – 700 VDC
550 VDC – 900 VDC
460 VDC – 900 VDC
Number of MPP Trackers/Max. Input
Current
1 / 20 Amp
1 / 33 Amp
1 / 48 Amp
1 / 72 Amp
Nominal Output Voltage
230 VAC (P-N) / 400 VAC (P-P)
BATTERY & CHARGER
Maximum Charging Current
32A
52A
50A
80 A
Nominal Battery Voltage
192 VDC
192 VDC
385 VDC
385 VDC
GENERAL
Dimension, D x W x H (mm)
815 x 300 x 830
559 x 320 x 909
560 x 320 x 909
431 x 715 x 1021
Net weight (kgs)
102
115
120
223
Humidity
0 – 90% RH (No condensing)
Operating Temperature
-10 to 55 °C