Benefits
True online double conversion DSP control.
Unique design and fully coating PCBAs to withstand harsh environment.
Active power factor correction in all phases.
Unique ventilation design for effective heat dissipation.
Accepts dual-mains input.
Front access makes maintenance and replacement easily.
High short-circuit and overload capabilities.
Easy integration into existing electrical networks or generator.
Parallel capability up to 4 units.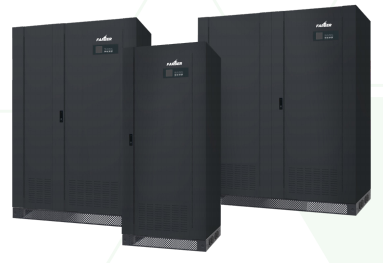 Specification
Model
FA-UPSW-480V-100KVA-3PH
FA-UPSW-480V-200KVA-3PH
FA-UPSW-480V-400KVA-3PH
FA-UPSW-480V-600KVA-3PH
FA-UPSW-480V-800KVA-3PH
CAPACITY
100KVA / 90KW
200KVA / 180KW
400KVA / 360KW
600KVA / 540KW
800KVA / 720KW
INPUT
Nominal Voltage
3 x 380VAC/400VAC/415VAC (3Ph+ G )
Acceptable Voltage Range
304VAC ~ 456VAC
Frequency
45 Hz ± 65Hz
OUTPUT
Nominal Voltage
380VAC/400VAC/415VAC (Selectable )
Connection Type
Hardwire 5-wire (3 Ph+N+G)
Waveform
Pure Sinewave
Output Voltage Stability
Steady state
±1%
Transient state
±5%
Frequency
50 Hz or 60 Hz (Selectable)
Frequency Synchronization Range
± 5 Hz (Equal to bypass working range)
Frequency Synchronization Speed
1~2 Hz/s
Crest Factor
3:1
Total Harmonic Distortion (THDv)
<1% (Linear Load), <3% (Non-linear Load)
Dynamic in-rush Voltage Range
0%->100%->0% load: ≦1%
Dynamic Recovery Time
0%~100% RCD load: <20 ms recover to 90% of nominal voltage
Phase Displacement
120º±1%
Transfer Time
0 ms
Overload Capability
110% for 60 minutes, 125% for 10 minutes, 150% for 1 minute, 200% for 7 seconds
Short-circuit Capability
180% for 1 second
Transient Response Time
< 10ms
BYPASS
Connection Type
Hardwire 5-wire (3Ph+N+G)
Input Voltage Range
220VAC ±15% (setting range ± 10% ~ ±25%)
Overload Capability
110% for 60 minutes, 125% for 10 minutes, 150% for 1 minute
Short-circuit Capability
1 second (Rated x 7), 500 ms (Rated x 8), 200 ms (Rated x 9) , 100 ms (Rated x 10), 100 ms (Rated x 14)
BATTERY & CHARGER
Rectifier
Type
IGBT
Rated output voltage
480 VDC
Charger voltage
524VDC~576VDC (Adjustable)
Charging current (max)
20A
40A
70A
Type / Numbers
Support VRLA Battery / 40 pcs (40~43 adjustable)
PHYSICAL
Dimension, D x W x H (mm)
850 x 800 x 1900
850 x 1000 x 1900
1000 x 1500 x 1900
1000 x 2100 x 1900
3900*1100*1950
Net Weight (kgs)
656
910
1700
2400
6400
ENVIRONMENT
Operating Temperature
0~40ºC continuous running, 45ºC derating to 85% with linear load