Benefits
True online double conversion DSP control.
Unique design and fully coating PCBAs to withstand harsh environment
Unique ventilation design for effective heat dissipation.
Accepts dual-mains input.
Front access makes maintenance and replacement easily.
High short-circuit and overload capabilities.
N+X parallel redundancy (Parallel capability up to 4 units). .
Easy integration into existing electrical networks or generator.
Active power factor correction in all phases.
Emergency power off (EPO) function.
Optional touch colored LCD.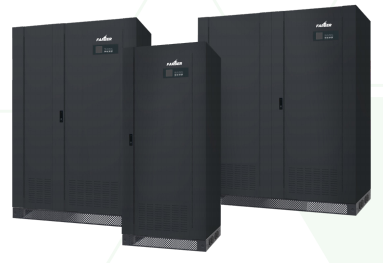 Specification
MODEL
FA-UPSW-384V-
10KVA-3PH
FA-UPSW-384V-
15KVA-3PH
FA-UPSW-384V-
20KVA-3PH
FA-UPSW-384V-
30KVA-3PH
FA-UPSW-384V-
40KVA-3PH
Capacity(VA/Watts)
10KVA /8KW
15KVA/12KW
20KVA / 16KW
30KVA /24KW
40KVA / 32KW
INPUT
Nominal Voltage
3 x 380VAC/400VAC/415VAC (3Ph + N or 3Ph + N + G )
Acceptable Voltage Range
304VAC ~ 456VAC
Frequency
50 Hz ± 5Hz (±10%)
OUTPUT
Nominal Voltage
3 x 380VAC/400VAC/415VAC (Selectable )
Connection Type
Hardwire 5-wire (3 Ph+N+G)
Waveform
Pure Sine wave
Output Voltage
Stability
Steady state
±1%
Transient state
±5%
Frequency
50 Hz
Frequency Synchronization Range
± 5 Hz (Equal to bypass working range)
Frequency Synchronization Speed
1~2 Hz/s
Crest Factor
3:01
Dynamic in-rush Voltage Range
0%->100%->0% (R load) <±5%: 20%->100%->20% (R Load) ± 3%
Dynamic Recovery Time
0%~100% RCD load: <60 ms recover to 90% of nominal voltage
Phase Displacement
120º±1% (balanced load)
120º±2% (imbalances 50% of the load)
Transfer Time
0 ms
Overload Capability
0%~110% continuous running; 110%~ 150% for 10 min~1 min; >160% for 200 ms
Short-circuit Capability
60~100ms
Transient Response Time
< 5ms
BYPASS
Connection Type
Hardwire 5-wire (3Ph+N+G)
Input Voltage Range
220VAC ±25%
Overload Capability
1.5 In~1.8 In 1h~30s
Short-circuit Capability
1.8 In~ >2.0 In 30s~200ms
BATTERY &BATTERY CHARGERARGER
Rectifier
Type
6 pulse
Rated output voltage
384 VDC
Charger voltage
395VDC~435VDC (Adjustable)
Charging current (max)
20A
40A
Battery
Type / Numbers
Support VRLA Battery / 32 pcs (29~32 adjustable)
PHYSICAL
Dimension, DxWxH (mm)
800 x 800 x 1800
Net Weight (kgs)
350
370
420
450
480
ENVIRONMENT
Operation Temperature
0~35ºC continuous running, 40ºC 8-hour running at nominal input voltage, recharging batteries and no overload,
45ºC derating to 85% with linear load
Specification
MODEL
FA-UPSW-384V-
60KVA-3PH
FA-UPSW-384V-
80KVA-3PH
FA-UPSW-384V-
100KVA-3PH
FA-UPSW-384V-
120KVA-3PH
FA-UPSW-384V-
160KVA-3PH
Capacity(VA/Watts)
60KVA / 48KW
80KVA / 64KW
100KVA / 80KW
120KVA /96KW
160KVA /128KW
INPUT
Nominal Voltage
3 x 380VAC/400VAC/415VAC (3Ph + N or 3Ph + N + G )
Acceptable Voltage Range
304VAC ~ 456VAC
Frequency
50 Hz ± 5Hz (±10%)
OUTPUT
Nominal Voltage
3 x 380VAC/400VAC/415VAC (Selectable )
Connection Type
Hardwire 5-wire (3 Ph+N+G)
Waveform
Pure Sinewave
Output Voltage
Stability
Steady state
±1%
Transient state
±5%
Frequency
50 Hz
Frequency Synchronization Range
± 5 Hz (Equal to bypass working range)
Frequency Synchronization Speed
1~2 Hz/s
Crest Factor
3:01
Total Harmonic Distortion (THDv)
<2% (Linear Load), <4% (Non-linear Load)
Dynamic in-rush Voltage Range
0%->100%->0% (R load) <±5%: 20%->100%->20% (R Load) ± 3%
Dynamic Recovery Time
0%~100% RCD load: <60 ms recover to 90% of nominal voltage
Phase Displacement
120º±1% (balanced load)
120º±2% (imbalances 50% of the load)
Transfer Time
0 ms
Overload Capability
0%~110% continuous running; 110%~ 150% for 10 min~1 min; >160% for 200 ms
Short-circuit Capability
60~100ms
Transient Response Time
< 5ms
BYPASS
Connection Type
Hardwire 5-wire (3Ph+N+G)
Input Voltage Range
220VAC ±25%
Overload Capability
1.5 In~1.8 In 1h~30s
Short-circuit Capability
1.8 In~ >2.0 In 30s~200ms
BATTERY & CHARGER
Rectifier
Type
6 pulse
6 pulse or 12 pulse
Rated output voltage
384 VDC
Charger voltage
395VDC~435VDC (Adjustable)
Charging current (max)
40A
50A
Battery
Type / Numbers
Support VRLA Battery / 32 pcs (29~32 adjustable)
PHYSICAL
Dimension, DxWxH (mm)
800 x 800 x 1800       800 x 1200 x 1800
800 x 1600 x 1800
Net Weight (kgs)
730
790
1000
1300
1400
ENVIRONMENT
Operation Temperature
0~35ºC continuous running, 40ºC 8-hour running at nominal input voltage, recharging batteries and no overload,
45ºC derating to 85% with linear load
Specification
MODEL
FA-UPSW-384V-
200KVA-3PH
FA-UPSW-384V-
250KVA-3PH
FA-UPSW-384V-
300KVA-3PH
FA-UPSW-384V-
400KVA-3PH
Capacity(VA/Watts)
200KVA /160KW
250KVA /200KW
300KVA /240KW
400KVA /320KW
INPUT
Nominal Voltage
3 x 380VAC/400VAC/415VAC (3Ph + N or 3Ph + N + G )
Acceptable Voltage Range
304VAC ~ 456VAC
Frequency
50 Hz ± 5Hz (±10%)
OUTPUT
Nominal Voltage
3 x 380VAC/400VAC/415VAC (Selectable )
Connection Type
Hardwire 5-wire (3 Ph+N+G)
Waveform
Pure Sine wave
Output Voltage
Stability
Steady state
±1%
Transient state
±5%
Frequency
50 Hz
Frequency Synchronization Range
± 5 Hz (Equal to bypass working range)
Frequency Synchronization Speed
1~2 Hz/s
Crest Factor
3:01
Total Harmonic Distortion (THDv)
<2% (Linear Load), <4% (Non-linear Load)
Dynamic in-rush Voltage Range
0%->100%->0% (R load) <±5%: 20%->100%->20% (R Load) ± 3%
Dynamic Recovery Time
0%~100% RCD load: <60 ms recover to 90% of nominal voltage
Phase Displacement
120º±1% (balanced load)
120º±2% (imbalances 50% of the load)
Transfer Time
0 ms
Overload Capability
0%~110% continuous running; 110%~ 150% for 10 min~1 min; >160% for 200 ms
Short-circuit Capability
60~100ms
Transient Response Time
< 5ms
BYPASS
Connection Type
Hardwire 5-wire (3Ph+N+G)
Input Voltage Range
220VAC ±25%
Overload Capability
1.5 In~1.8 In 1h~30s
Short-circuit Capability
1.8 In~ >2.0 In 30s~200ms
BATTERY & CHARGER
Rectifie
Type
6 pulse or 12 pulse
Rated output voltage
384 VDC
Charger voltage
395VDC~435VDC (Adjustable)
Charging current (max)
50A                       70A
Battery
Type / Numbers
Support VRLA Battery / 32 pcs (29~32 adjustable)
PHYSICAL
Dimension, DxWxH (mm)
800 x 1600 x 1800                850 x 1630 x 1900
900 x 1700 x 1900
Net Weight (kgs)
1700
1900
2300
2500
ENVIRONMENT
Operation Temperature
0~35ºC continuous running, 40ºC 8-hour running at nominal input voltage, recharging batteries and no overload,
45ºC derating to 85% with linear load