Benefits
True online double-conversion technology with high power density, utility frequency independence.
DSP technology to guarantee high reliability.
50/60 Hz frequency converter mode.
Cold start function to startup the UPS without utility.
Emergency power off (EPO) function.
N+X parallel redundancy.
Three segment charging mode to increase battery service life, optimize recharge time.
Maintenance bypass available.
Optional touch colored LCD screen.
Parallel capability up to 3 units.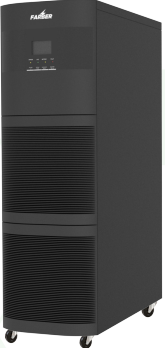 Specification
MODEL
FA-UPSX-240V-10KVA-
3PH/1PH
FA-UPSX-240V-15KVA-
3PH/1PH
FA-UPSX-240V-20KVA-
3PH/1PH
FA-UPSX-240V-30KVA-
3PH/1PH
PHASE
3-phase in / 1-phase out
Capacity(VA/Watts)
10000 VA/9000 W
15000 VA/13500 W
20000 VA/18000 W
30000VA/27000W
INPUT
Nominal Voltage
3 x 400 VAC (3Ph+N)
Voltage Range
190-520 VAC (3-phase) at 50% load ; 305-478 VAC (3-phase) at 100% load
Frequency range
46~54Hz or 56~64Hz
Power factor
≥ 0.99 @ 100% Load
OUTPUT
Output voltage
208/220/230/240VAC
Frequency Range (Synchronized Range)
46~54Hz or 56~64Hz
Frequency Range (Batt. Mode)
50 Hz ± 0.1 Hz or 60 Hz ± 0.1 Hz
Current Crest Ratio
3:1
Harmonic Distortion
<2 % THD (Linear Load) <5 % THD (Non-linear Load)
Transfer Time AC Mode to Batt. Mode
Zero
Transfer Time Inverter to Bypass
Zero
Waveform (Batt. Mode)
Pure Sine wave
BATTERY
Standard Model
Battery Type
12 V / 9 Ah or 12 V / 7Ah
Numbers
20 pcs
20 pcs x2 strings
20 pcs x3 strings
Typical Recharge Time
9 hours recover to 90% capacity
Charging Current (Max.)
a1             a2           a3            a4
Long-run Model
Battery Type
Depending on applications
Numbers
Depending on applications
Charging Current (Max.)
4A              8A               8A            12A
Charging Voltage
273 VDC ± 1% (Based on 20pcs batteries)
ALARM
Battery Mode
Sounding every 4 seconds
Low Battery
Sounding every second
Overload
Sounding twice every second
PHYSICAL
Standard Model
Dimension, DxWxH
(mm)
592 x 250 x 576
815 x 250 x 826
815 x 300 x 1000
Net Weight (kgs)
83
164
234
Long-run Model
Dimension, DxWxH
(mm)
592 x 250 x 576            815 x 250 x 826
Net Weight (kgs)
28
40
64
ENVIRONMENT
Humidity
0-95 % RH @ 0- 40°C (Non-condensing)
Noise Level
Less than 58dB @ 1
Meter
Less than 60dB @ 1 Meter
Less than 65dB @ 1