Benefits
Pure Sine Wave Output Suitable for Electrical and Electronics gadgets
Can support machines with high starting current
100% Copper Transformer design for long life and it delivers high charging current for quick charging of battery
Multi Stage Charging technique for superior performance of battery
High Charging current of 15A for faster recharging of battery
Wide Operating Voltage range, charges battery even at low voltage, increases battery life
Less Change-over time suitable to use computer, IT Peripherals etc..
Enhanced output voltage for better performance of loads.
LCD display for better user interface.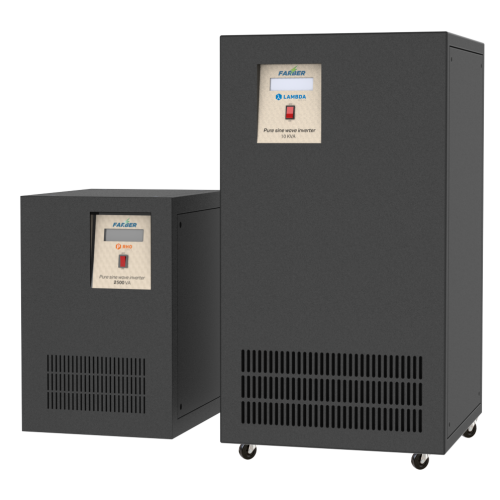 Specification
MODEL NUMBER
FA-INV-48V-
2500VA
FA-INV-48V-
3500VA
FA-INV-48V-
5000VA
FA-INV-120V-
7500VA
FA-INV-180V-
10KVA
Capacity
2500VA/2200W
3500VA/2860W
5000VA/4400W
7500VA/6600W
10KVA/8.8KW
NARROW MODE
Mains undervoltage cutoff /recovery
180 V / 190 V
Mains overvoltage cutoff /recovery
265 V / 255 V
Battery charging voltage
180 VAC to 265 VAC
Changeover time
≤ 10 milliseconds
Output voltage (no load)
220 V
WIDE MODE
Mains undervoltage cutoff /recovery
125 V / 135 V
Mains overvoltage cutoff /recovery
295 V / 285 V
Battery charging voltage
100 VAC to 295 VAC
Changeover time
≤ 50 milliseconds
Output voltage (no load)
220 V
BATTERY
Quick charge current
15A
Normal charge current
15A
Boost charge voltage
14.5V/Batt
Float charge voltage
13.6V/Batt
Low battery cutoff point
10.4V/Batt
input voltage
48V
48V
48V
120v
180v
Number of batteries
4 *12VDC
10 *12VDC
15 *12VDC
Recommended battery
65 AH to 200 AH
Charge method
Constant current ,followed by constant voltage
Output waveform
Pure sine wave
Output frequency (UPS mode)
50 HZ
Efficiency
≥80%
Operation temperature
0 to 50°C
LCD indicators
Mains,charging,UPS,low battery, overload,Short circuit
Audible alarm
Low battery,Overload,short circuit
PROTECTIONS
Overload
105% load on UPS (auto reset within 5 re-tries)
Overcharge
Control battery voltage and current through software
Short circuit
Shut down (UPS mode),MCB trip (AC mode)
Thermal
shut down at 93°C
Battery reverse polarity
DC fuse on PMB will fail when battery terminals connected wrongly
Battery deep discharge
UPS will shut down when battery voltage reaches to 10.4V (per battery)
PACKING INFORMATION
Net weight
29 kg
32 kg
54KG
78KG
89KG
Dimensions
31.0 x 29.0 x 45.0 cm
31.0 x 29.0 x 45.0 cm
55.0 x 35.0 x 65.0 cm
55.0 x 35.0 x 65.0 cm
55.0 x 35.0 x 65.0 cm