Benefits
Elegant and modern design.
5 Relays ensure rigorous and high precision voltage outputs.
Instant transformer of power through zero-crossing detection.
High efficiency toroidal transformer.
Full protection: over voltage, under voltage, overheat, short circuit
and overload.
Selectable 6s/180s delay time.
Air conditioner starter push offers very high current for 30 seconds to
allow air conditioner to start.
USB charger let you charge your smartphone, tablet, or any other
peripheral with the built-in USB charger.
Auto-run after Overload protection.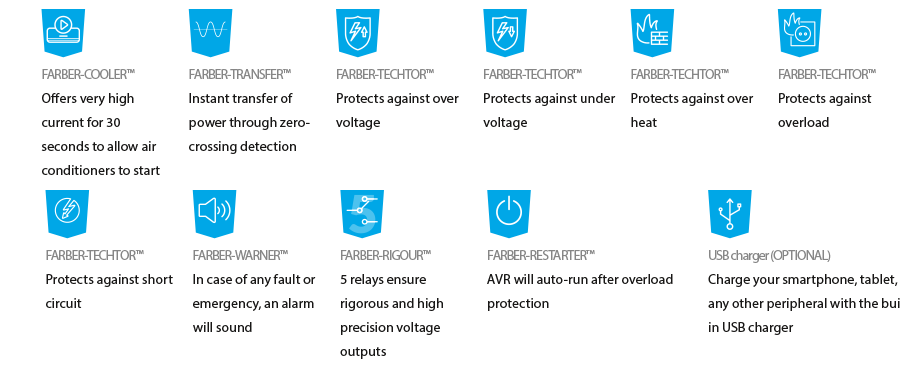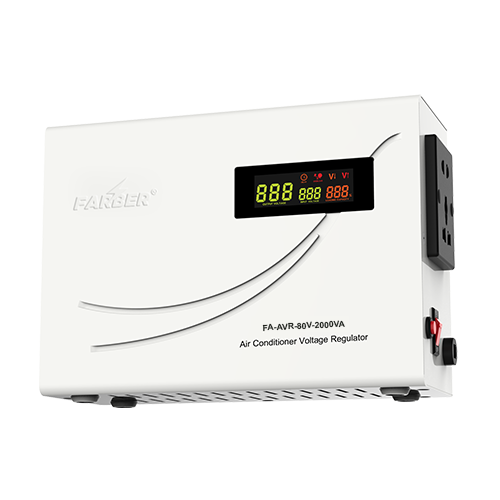 Specification
Model number
FA-AVR-80V-2000VA
Capacity
2000VA
Technology
FARBER-COOLER, FARBER-TRANSFER
Transformer
Toroidal transformer
Material
Metal
INPUT
Input Voltage
80-260V
Input Frequency
45-65Hz
OUTPUT
Rated Output Voltage
220V/230V
Output Precision
±13%
Output Frequency
Sychronized with input frequency
Efficiency
 >97%
DISPLAY
Digital Display
Input Voltage & Output Voltage
(H) Symbol
Over voltage warning
(L) Symbol
Under voltage warning
(C) Symbol
Overheat warning
(F) Symbol
Overload warning
Capacity
Percentage load
PROTECTIONS
Over Voltage
Output Cutoff + warning
Under Voltage
Output Cutoff + warning
Overheat
Output Cutoff + warning
Short Circuit
Circuit breaker trip
Overload
Output Cutoff + warning
Surge
MOV (Optional)
Delay Time
6s/180s selectable
OTHERS
Certifications
CE, SON, SB, SASD
Peripherals
USB Charging Port(Optional), Smart Cooling Fan
Operating Temperature
0°C – 40°C
Storage Temperature
-15°C – 45°C
Operating Humidity
 10%-90%, Non-condensing
Dimensions
29 x 20 x 11 cm
Quantity
3 piece
Net weight
22.38 kg